As many of you know, I am no where near formally trained. But that's okay :) I like to read, so I have
tons
of art books - both instruction and just compilations of beautiful works. The books are not only bery instructional, but they are wonderfully inspirational.
The first one I have acquired is,
Painting peaceful country landscapes,
by Annette Dozier. I got lucky, this book was on sale at my local art store for $7-ish.

The second is
Clouds & Skies
, by William F. Powell. I am still trying to perfect my clouds and incorporate them into my painting styles.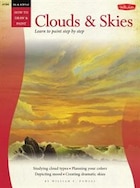 I can't wait to really get into these books :) I'm planning on visiting my parents in the country soon - maybe I'll bring some paints with me :o)