I just got these little moleskine cahiers last week, and I already have some painted up! Two of them are in my
Jellybeans shop on Etsy
, the
Retro Tree
and
Apple Tree
ones. But I have some more that I'm going to list later this week, and some more books to dazzle up.
They are just the perfect size to put anywhere! I sneaked one into my purse right when I opened them, and I've been using it for my grocery lists and any other "reminders" - it's great! And, to make it even better, these cute little books have a pocket in the back for loose papers (grocery and other receipts for me), and the last 16 pages are detachable - meaning if you need to write a little something for someone, you don't have to rip up you book - the pages willingly come out! Sweet, isn't it? I'm not sure yet if these will become a regular piece in my shop - so I can't promise that they'll be around later! As well, I will take requests for custom covers :)
On a side note, I've been looking at getting a new painting easel; since my cheapo 20$ one from a couple years ago is on it's last breaths (I'm currently using tape to keep it together). So I thought, I'd get a really nice - use for forever, long term - art easel.

Currently, I'm considering the Academy Lyptus Lobo Easel from Dickblick.com. It's made from Lyptus wood - which grows faster then other trees (ready for harvest in 14-16 years, opposed to 60 years), and new trees sprout from the stump of previous trees - so it's a eco-friendly choice; not to mention the price is definitely right!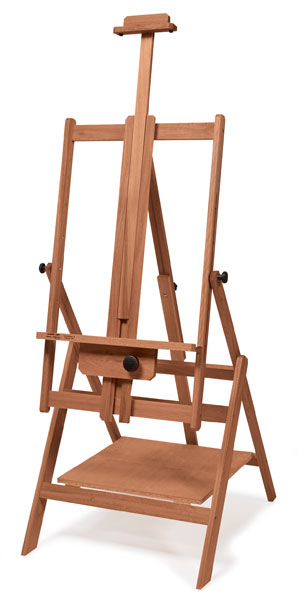 This easel in particular, converts so that it lies horizontal - which was key for me, since I do watercolor in addition to oils and acrylics, and watercolours are hard to manage on a vertical service hehe. Isn't it preddy? :)